(BGM from FF9 Main Theme)
---
---
Zidane is a member of a bandit gang which plans to kidnap Princess Garnet of the Alexandria Empire during a drama show celebrating an important festival in Alexandria in which Garnet as well as all royal members will appear.
At the same time, having noticed some strange behaviors of her mother, Garnet decides to secretly leave her home country and go to Lindblum to ask Regent Cid for information and help.
During the drama show, Zidane meets a mysterious girl, who is actually the escaping princess! Their adventure begins here, but more dangers and challenges are awaiting them...
Story:10 Characters:10+ Graphics:10 Gameplay:10+ Overall:10
My review: One word, GREAT! Even though FF9 doesn't have some surprising new elements as in FF7 and 8, it still deserves the name of Final Fantasy with its excellent story and game play. I especially like the new "Active Time Event" system in which there can be more sub-plots and better elaboration of story for all the characters in the game. Although the quality of the CG movies doesn't really improve much when compared with that of FF8, the use of FMV for summoning magics will still take your breath away, as you can imagine!
Zidane and his friends are the guides on this page!
---
Animated Mouse Cursors

Zidane and Garnet!

Garnet with a short-hair look!
---
Final Fantasy IX Desktop Theme
Click here to download Final Fantasy IX Desktop Theme (version 1.10)! It contains the above animated cursors, CD-quality sound files and MORE! Remember to read the readme file included as it contains all kinds of info about the Theme as well as some critical information on how you can install those "Active" components in the Theme! You may click here to view it online.
If you want to preview the Theme before download, click here.
Visit Miscellaneous Files section for all kinds of add-ons for this Theme, including the "Melodies Of Life" (FF9 theme song) startup sound!
---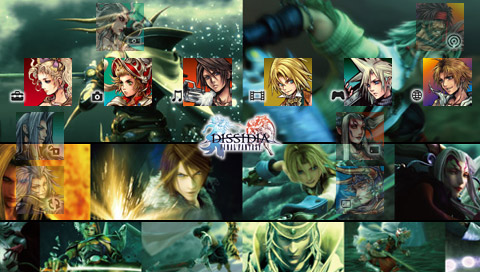 Own a PlayStation Portable? The latest firmware update (3.70+) allows you to fully customize the look of your PSP, just like desktop theme for PC! Here we have a "Dissidia: Final Fantasy" theme for your PSP!

---
Come get some extra desktop stuff such as icons and startup logos for your desktop! If you have installed the above FF9 Desktop Theme, don't miss all those add-ons for it!
---
Take a look at some of BEST video sequences in FF9! They were extracted directly from the game CDs and re-encoded into MPEG movie files with music clips mixed from the soundtrack. All these ensure that they are the BEST on the Web!
---
Final Fantasy IX Merchandise
---
Final Fantasy X-2 is a direct sequel to the previous title Final Fantasy X. This time the focus of the story is on Yuna and she will travel with two other female characters, Rikku and Paine throughout the game. Check out all the cool stuff including desktop downloads, trailers and other in-game Full Motion Videos for the possibly HOTTEST RPG in 2003!
---
Final Fantasy X is the first Final Fantasy title released on PlayStation 2. Unlike all previous Final Fantasy titles before it, FFX features a fully rendered 3D World map with fully polygonal objects on it. And with the high-resolution and awesome CG movies, FFX is undoubtedly one of the BEST game titles ever produced! Check out all the cool stuff for this GREAT game!
---
With its awesome CG animations, FF8 is certainly one of the BEST RPG ever produced! "Eyes On Me", the english theme song of this game is still one of the BEST game song I've ever heard! Check out all the cool stuff for this masterpiece!
---
Even though newer FF titles have been released, FF7 is still a great game. Come get some desktop accessories and stuff related to this top-selling RPG. Don't miss The Promised Land, an online FF7-based RPG created by myself in which Cloud and his companions go beyond the original FF7 world!
---
Chrono Cross is the second sequel from the famous "Chrono Trigger" RPG series. Check out all the cool stuff for this great RPG!
---
"Final Fantasy VII - Dirge of Cerberus", the FIRST official game sequel after the original FF7 series has already been released in Japan! Come take a look at some of the high-quality CG movies used in game!
---
It has been 5 years since the last major FF title (FF10). Final Fantasy XII finally arrives with amazing graphics, tons of new elements and surprises. Check out all the info and downloads about this long-awaited RPG!
---
"Crisis Core: Final Fantasy VII", an action RPG on PlayStation Portable (PSP), is a prequel to Final Fantasy VII and is also the fourth entry in the "Compilation of Final Fantasy VII". Check out all the high-quality CG movies used in game!
---

Using Windows Vista? Do you want a COOL desktop analog clock with the background as Zidane, other Final Fantasy or Anime characters, or even your own picture? Check out our Windows Sidebar Gadget Gallery!
---
More cursors/icons and other stuff coming soon!
Don't know how to use these desktop accessories? Click here for more info.
If you want to use anything here in your homepage, email me (with your site URL) for permission.
Forums Anime Shop Vote for Anime Theme Survey Email Me
---
Links
If you think your site rocks and is related to Final Fantasy IX then please fill in this form and I will put a link here.
---
---
Final Fantasy IX and related stuff are copyrighted by SQUARE ENIX.