Desktop Accessories Info
(BGM from "The Neverending Story")
---
Desktop Icon
Icon is a small pic used in Windows to represent a program or shortcut. Icon files usually have .ico file extension.
In most cases, you can easily change the icon of a desktop shortcut by right-clicking on it, and then choose "Properties" => "Shortcut" => "Change Icon" and browse for your desired icon.
All icons available on this site are best viewed in 48x48 size, high color or above.
Click here to download Microangelo which is a good icon/cursor making tool as well as a wonderful utility to let you change ALL your icons/cursors, including your START MENU ICONS!
---
Mouse Cursor
Cursor is a small icon/animation for the mouse pointer to represent certain system event in Windows. Static cursor files have .cur file extension, while animated ones have .ani file extension. All animated cursors available on this site requires high color or above for best quality.
To use the cursors you downloaded, open "Control Panel" => "Mouse" => "Pointers" and browse for your favorite cursors.
---
Startup/Shutdown Screen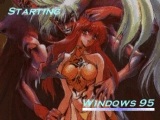 Note: Windows XP/Vista no longer support the change of startup/shutdown logo.
Startup screen is the pic you see on Windows startup. It is a file called "logo.sys". To change the startup screen, you need to copy the logo file (logo.sys) to the root directory (c:\). In some RARE cases you may need to copy the logo to the Windows directory (c:\windows\) instead. If you are still not sure which path you should copy the logo file to, simply copy it to BOTH c:\ and c:\windows\ and the logo will work for sure.
For shutdown/waiting screens, you need to copy "logos.sys" / "logow.sys" to your Windows directory.
Please note that logo files come with ".sys" file extension in which these type of "system" files are HIDDEN in Windows Explorer under normal configurations. You have to configure your Window Explorer (press "View" => "Folder Options" => "View") to be able to view system/hidden files, or you can always manipulate these files under DOS prompt.
If you want to make your own animated startup screen, visit this site for more information.
---
Event Sound
Event sound is a sound file that plays on certain system event such as Windows startup, menu popup, alert and program error. Although event sounds can be configured and installed manually, they usually come as part of a Desktop Theme.
All sound files included in my Desktop Themes were recorded in Microsoft ADPCM format to minimize file size. If you have problem playing the files, follow the instructions below.
Open Control Panel.
Click the "Add/Remove Programs" icon.
Click the "Windows Setup" tab.
Click the "Mutlimedia" component and then "Details".
Install "Audio Compression".
---
Desktop Theme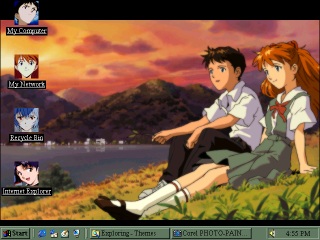 Desktop Theme is a set of desktop files which change the appearance of your desktop. You can install desktop themes directly in Windows 98/ME/XP/Vista, or you can use other third-party theme installers. To install a desktop theme, simply click on its .theme file.
You can also make your own desktop theme by first saving your desktop settings as a .theme file in the Desktop Themes section of Control Panel, and then packing all necessary desktop files and the .theme file into a single package (the easiest way is to copy all necessary files into a folder and then compress them into a ZIP file). This can also be done by other theme-making programs. After that, your theme can be distributed to your friends or on the net.
NOTE: To install desktop themes in Windows 98/ME, you may need to enable "Desktop Themes Support". Following the instructions below.
Open Control Panel.
Click the "Add/Remove Programs" icon.
Click the "Windows Setup" tab.
Click the "Desktop Themes" component.
Install "Desktop Themes Support".
Windows XP/2000 have similar "Desktop Themes Support" option as well.
---
Active Desktop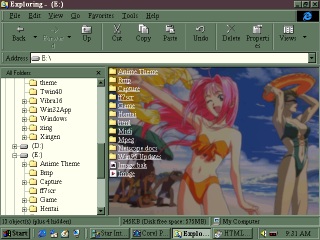 Active Desktop is built-in feature for Windows 98/ME/NT/2000/XP (*) which let you use HTMLs and other Web technologies to decorate your desktop and folders instead of just plain wallpapers. You can install a HTML file to your desktop exactly like installing a wallpaper.
With Active Desktop feature, you can even customize your folders like the one shown above! For each folder you want to customize, choose the "Customize this Folder" option in "View" menu. Follow the on-screen instructions.
If you want to know more about Active Desktop, or simply want to find some Anime Active Desktop stuff for your computer, check out my Active Desktop page!
* - Windows Vista no longer supports Active Desktop.
---
Windows Sidebar Gadget
Windows Gadget is a new feature of Windows Vista and 7. The Vista version has a "Sidebar" which contains mini-applications (called "Gadgets") which are based on a combination of Script and HTML. They may be used to display information such as the system time, CPU/RAM usage and Internet-powered features such as RSS feeds, and to control external applications such as Windows Media Player. Gadgets can run "docked" in the sidebar or they can "float" anywhere on the desktop. On Windows 7, gadgets are all placed on the desktop without a sidebar, and arranged in a slightly different way.
Check out our Windows Sidebar Gadget Gallery for some original gadgets that can be used on your Vista and 7 desktop!
---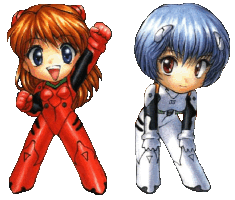 Anime Theme - The World of Anime!
---
---