(BGM from TV Series Ending Theme "Hare Hare Yukai")
---
---
Kyon is an ordinary freshman high school student who, self-admittedly, has given up his fantasies of espers, time travelers, and aliens as he left middle school. However, sitting behind him is the beautiful, intelligent, and eccentric girl Haruhi Suzumiya, who in her class introduction blatantly states her singular desire in meeting aliens, time travelers, sliders, or espers. Interested, Kyon starts trying to make small talk with her before class, eventually leading to normal conversations with Haruhi. One day, after making a comment about Haruhi's displeasure with the available school clubs, he finds himself dragged into membership of the newly formed Spreading Excitement All Over the World with the Haruhi Suzumiya (or SOS) Brigade.
Haruhi quickly claims the Literature Club's room and its sole member, the silent bibliophile Yuki Nagato as property of the SOS Brigade and "voluntary arrests" the timid but cute Mikuru Asahina and the polite, smiling Itsuki Koizumi as the club's other two members. As the story progresses, however, Kyon finds that each of these supposedly "helpless victims" are actually agents of fantastic organizations who have been sent to monitor Haruhi, who they explain as having superhuman abilities of manipulating the universe. Haruhi's unawareness of her powers means that she unconsciously creates a new universe - one more to her liking - and attempts to switch over whenever she becomes bored or otherwise dissatisfied with reality. To prevent this, the members of Haruhi's club spend their time trying to keep their god-like leader entertained, hold her powers in check, and maintain the illusion of a normal life.
(From Wikipedia)
The Melancholy of Haruhi Suzumiya
Story:9.6 Characters:9.8 Art:9.9 Overall:9.7
My review: At the first glance, this may look like an ordinary high school Anime with some high-quality animations and pictures. But when you actually watch it further, you will find that it is a comedy Anime with everything happening around a school girl called Haruhi Suzumiya with some fancy supernatural elements presented in an interesting way. Haruhi, looking like an ordinary school girl (you may say her personalities are "extraordinary" though :P) but possessing god-like power without knowing it herself, is quite a unique character ever created in the Anime world. This Anime is based on the series of light novels, the first of which bears the same name, but the actual story of the Anime has elements based on many other chapters of the novel series and even some original contents. To understand and enjoy the whole series fully, I suggest reading the original novels as well.
Haruhi and her SOS companions are the Anime Theme Tour Guides on this page!
---
Animated Mouse Cursors
| | |
| --- | --- |
| Haruhi Suzumiya, the leader of SOS Brigade! | Obey, or be scolded by Haruhi~! |
| Mikuru Asahina, the mascot (?) of SOS Brigade! | Haruhi in thinking mode...? |
| Yuki Nagato, a quiet member of SOS Brigade! | Haruhi Bang Bang~! |
| The cute and playful side of Haruhi~! | |
---
Come get some great Haruhi wallpapers for your desktop~!
---

Using Windows Vista? Do you want a COOL desktop analog clock with the background as Haruhi, other Anime characters, or even your own picture? Check out our Windows Sidebar Gadget Gallery!
---
More cursors/icons and other stuff coming soon!
Don't know how to use these desktop accessories? Click here for more info.
If you want to use anything here in your homepage, email me (with your site URL) for permission.
Forums Anime Shop Vote for Anime Theme Survey Email Me
---
Links
If you think your site rocks and is related to Haruhi then please fill in this form and I will put a link here.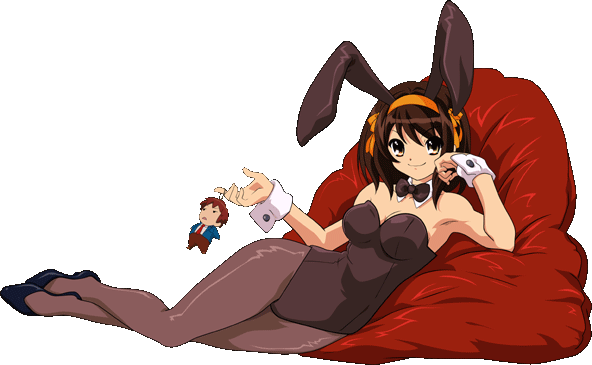 ---
---
The Melancholy of Haruhi Suzumiya/涼宮ハルヒの憂鬱 (c) 谷川流・いとうのいぢ/SOS団. All rights reserved.
Credits given to Ash Hikari, Chloe-chan, crashed, Dark Chii Chan, erikamirou, fluke, Jaderabbit, moonlight-shawdow, Naiisie, saki-xan, Tomei, tsukishoujo, Yamionpu, Yore (and others possibly not listed) for some of the vector graphics used