Doukyuusei 2 (Nanpa 2)
---
---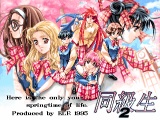 Doukyuusei 2 (Nanpa 2)
Story:8.2 Characters:9.8 Art:9.9 Overall:9
My review: This Anime was based on a very famous Japanese CG game of the same name. I like the girls in this love Anime! They are so pretty!
---
Desktop Accessories

Doukyuusei 2 Windows pointer

Yui animated mouse cursor!

Sakurago animated mouse cursor!

Misa animated mouse cursor!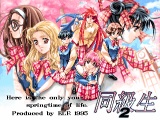 Nanpa 2 Win95/98 Startup logo!
---
Take a look at some wallpapers featuring various Japanese games!
---
More cursors/icons and other stuff coming soon!
Don't know how to use these desktop accessories? Click here for more info.
If you want to use anything here in your homepage, email me (with your site URL) for permission.
Forums Anime Shop Vote for Anime Theme Survey Email Me
---
Links
If you think your site rocks and is related to Nanpa 2 then please fill in this form and I will put a link here.
---
---