You're Under Arrest
(BGM from You're Under Arrest OAV Opening Theme)
---
---
The story features two unique policewomen, Kobayakawa Miyuki and Tsujimoto Natsumi, who are partners. Miyuki is the calm, intellectual type with long hair, and Natsumi is the wild, powerful type with short hair.
You're Under Arrest
Story:8.8 Characters:9.8 Art:9.9 Overall:9.4
My review: From the same author of "Ah My Goddess", there is no doubt that it is cool!
---
Desktop Accessories
Click here to download You're Under Arrest Desktop Theme (3.47M), version 1.0! This Theme pack contains FOUR wallpapers and a new cursor

! Click here for the listing of included items and installation instructions.
If you want to preview the Theme before download, click here.
If you have problems downloading the Theme file, use GetRight which can resume broken/timeout downloads!
If you have downloaded the Desktop Theme and have Microsoft Internet Explorer 4.0 or later installed, click HERE and make your desktop ANIMATED!

Animated mouse cursor!
You're Under Arrest Win95 Startup logos!
---
You're Under Arrest WinAmp Skins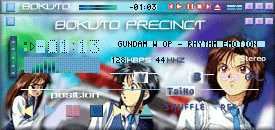 A lot of you probably knows of the music player WinAmp, but do you know you can apply your own visual interface? Download these You're Under Arrest skins for your WinAmp player! To install, unzip the file in WinAmp's skin folder. In WinAmp you then choose "Options", and then "Select Skin".
YUA WinAmp Skin Miyuki WinAmp Skin Natsumi WinAmp Skin
(Miyuki and Natsumi WinAmp skins courtesy of KahHo)
(YUA WinAmp skin courtesy of Shirley)
---
More cursors/icons and other stuff coming soon!
Don't know how to use these desktop accessories? Click here for more info.
If you want to use anything here in your homepage, email me (with your site URL) for permission.
Forums Anime Shop Vote for Anime Theme Survey Email Me
---
Links
If you think your site rocks and is related to You're Under Arrest then please fill in this form and I will put a link here.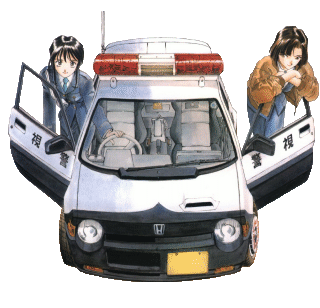 ---
---