(BGM from Slayers Next Opening Theme)
---
---
On a highway in the remote country side, a young girl named Lina is surrounded by a bunch of bandits. She shows no fear as she knows it's no sweat to smash them away with her powerful sorcery and great technique in sword.
Suddenly, Gourry, a young swordsman, appears and slashes the bandits with great skill before Lina draws her sword. Gourry is disappointed to find Lina is only a teenage tom-boy, not an attractive lady as he expected. Nevertheless, they head for Atrass City, side by side, because it's the nearest place to find a hotel.
Lina, a genius sorceress and exorcist, and Gourry, an extrodinary swordsman, stamp into a world of unexpected peril and fear in outrageously wacky way as if they are temped by unseen strings.
Slayers
Story:8.9 Characters:9.8 Art:9.9 Overall:9.4
My review: An interesting adventure story!
---
Desktop Theme
Click here to download Slayers Desktop Theme (1.69M) created by Alain Gravel (cursors by me). Read the readme.txt included for installation instructions.
Here is the Japanese addon for the Slayers Theme (part I and II, 2.01M in total) with CD-quality stereo opening and ending sounds included! Make sure you don't miss it!
Click here for updated icons.
I have optimized the alternate wallpaper in the Theme which looks sharper and more colorful. Click here to download!
If you have problems downloading the Theme files, use GetRight which can resume broken/timeout downloads!
If you have downloaded the Desktop Theme and have Microsoft Internet Explorer 4.0 or later installed, click HERE and make your desktop ANIMATED!
---
Animated Cursors

Lina and her companions!

Lina, Gourry...and their ultimate enemy!
---
Slayers WinAmp Skin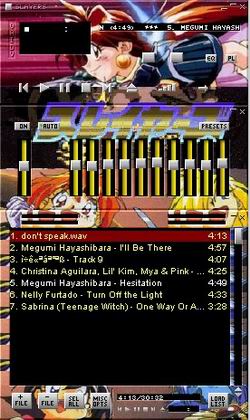 A lot of you probably knows of the music player WinAmp, but do you know you can apply your own visual interface? Download this Slayers skin for your WinAmp player! To install, unzip the file in WinAmp's skin folder. In WinAmp you then choose "Options", and then "Select Skin".
DOWNLOAD WinAmp skin with 24-bit colors.
(Slayers WinAmp skin courtesy of DuRath Themes)
---
Check out other good Slayers sites!
---
More cursors/icons and other stuff coming soon!
Don't know how to use these desktop accessories? Click here for more info.
If you want to use anything here in your homepage, email me (with your site URL) for permission.
Forums Anime Shop Vote for Anime Theme Survey Email Me
---
---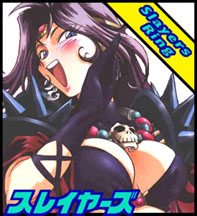 This Slayers Ring site is owned by Butz Yung.
Click for the [ Next Page | Skip It | Previous | Next Five]
Want to join the ring? Click here for info.