3x3 Eyes
(BGM from 3x3 Eyes "Kyuuseikoushu" Opening Theme)
---
---
"Sanjiyan" is a mythical race which is near extinction. They are 3-eyed immortals who can eat human's soul once in their lives. Those eaten will become immortal servants to their eaters. The souls will be kept inside Sanjiyans' bodies until they dies. These immortal servants will have a mysterious symbol(a word pronounced as "Wu") on their foreheads.
Pai is a 300-year-old Sanjiyan who appears to be a young and cute girl and wants to become human. With the help of professor Fujii before his death, she came to Japan to meet his son Yakumo who could help her. Unfortunately, just after Yakumo's first encounter with Pai, an accident occured and he was killed by a monster. At that moment, Pai's sleeping third eye suddenly awakened and absorbed Yakumo's soul. Although he was saved, he became a "Wu" to her! Now they are on the quest to become human......
3x3 Eyes
Story:9.5 Characters:9.8 Art:9.7 Overall:9.6
My review: The OAV is cool, and the manga just rocks!
---
Animated Mouse Cursors

Pai and her Sanjiyan form

Yakumo in battle

Yakumo again!
Click HERE to download some 3x3 Eyes icons (courtesy of Dark Fiber)!
---
3x3 Eyes Merchandise
---
More cursors/icons and other stuff coming soon!
Don't know how to use these desktop accessories? Click here for more info.
If you want to use anything here in your homepage, email me (with your site URL) for permission.
Forums Anime Shop Vote for Anime Theme Survey Email Me
---
Links
If you think your site rocks and is related to 3x3 Eyes then please fill in this form and I will put a link here.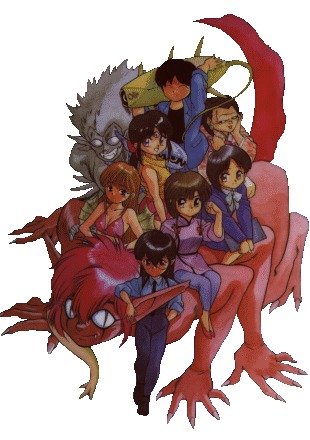 ---
---
3x3 Eyes "Kyuuseikoushu" (The Vampire Princess) is a Windows game produced by Nihon Create.
3x3 Eyes is copyright © 1987-97 Yuzo Takada/Kodansha - Bandai Visual - King Records. All rights reserved.