Macross 7
(BGM from Fire Bomber "Seventh Moon")
---
---
It's 35 years after the war with the Zentradians. MACROSS 7, a Macross class battleship with the long-distance colonial fleet, encounters an unidentified enemy during a mission. The enemy is not interested in attacking or invading- instead, it aims to steal a life force called "spiritia" that dwells within the bodies of human beings. Can humanity defeat this powerful enemy? Can Basara and his rock band "Fire Bomber" move the foe with their music?
Macross 7
Story:9.0 Characters:9.9 Art:10 Overall:9.6
My review: Nice animation with cool songs! Fire Bomber ROCKS!
---
Macross 7 Desktop Theme
Click here to download Macross 7 Desktop Theme (3.26M), version 1.0! It contains a new animated cursor

which fits the Theme. Please read this text file for installation instructions.
If you want to preview the Theme before download, click here.
If you have installed the Desktop Theme and have Internet Explorer (Windows XP and older only), click here and animate your desktop!

Macross 7 animated mouse cursor! Download it now!
---
More Macross 7 downloads coming soon!
Don't know how to use these desktop downloads? Click here for more info.
If you want to use anything here on your homepage or blog, email me (with your site URL) for permission.
Forums Anime Shop Vote for Anime Theme Survey Email Me
---
Links
If you think your site rocks and is related to Macross 7 then please fill in this form and I will put a link here.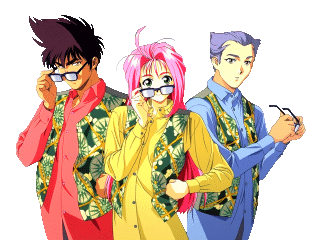 See ya next time in the Macross Universe~!
---
---