Ah! My Goddess!
(BGM from

Opening Theme)
---
---
Keiichi Morisato is a student at Nekomikoka University. One day, he accidentally telephones the "Helper Goddess Office" and speaks to the goddess Belldandy. When she offers to grant him one wish, he replies: "I want to be with a goddess like you!"
Thus, by a powerful force, Keiichi and Belldandy

are brought closely together. Belldandy's sister, Urd

and the mechanically-minded Skuld

are so concerned about the new couple that they come to Earth to live with them...
Ah! My Goddess!
Story:9.0 Characters:9.9 Art:9.9 Overall:9.5
My review: If you like this Anime, you shouldn't miss the movie too!
---
Animated Cursors

Keiichi and Belldandy

Urd's arrival

Skuld's Daydream
---
More cursors/icons and other stuff coming soon!
Don't know how to use these desktop accessories? Click here for more info.
If you want to use anything here in your homepage, email me (with your site URL) for permission.
Forums Anime Shop Vote for Anime Theme Survey Email Me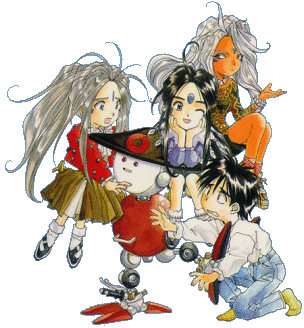 ---
---