Sakura Wars
(BGM from Sakura Taisen Opening Theme)
---
---
You're Ogami Ichirou, a serious, straight-laced naval ensign in 1920's Japan. One day, Ogami gets a mysterious transfer to the elite "Kagekidan"(Tei Koku Kagekedan) branch of the army, an honor he was thrilled to receive. But when he arrives, he finds his assignment is just to be some sort of usher at the Imperial Opera house, and all of his co-workers are the opera's attractive, young, all-female cast. Poor Ogami only wanted to protect his country, not stamp tickets for the Opera house, and is horribly depressed until he learns the truth: The opera house is just a cover for Japan's top secret military unit that uses experimental, steam-powered mechs! Its your job to lead these mechs, piloted by the opera's cute young cast, into battle against a black-magic-wielding army of demons who want to overthrow the government.
This is originally a SEGA Saturn game, but now also available on PC. Since this game is so popular, it has been turned into an OAV Anime series also! Sakura Wars 2 and 3, the latest sequels from the game series has been released on SEGA Dreamcast soon. Sakura Wars 4 is scheduled to be released on SEGA Dreamcast (perhaps some other platforms as well) soon!
Sakura Wars
Story:9.2 Characters:9.9 Art:9.9 Overall:9.5
My review: A great Anime with pretty female characters and unique Mecha design!
---
Sakura Wars Desktop Accessories

Animated mouse cursor!
Note: The white border around the GIF will become transparent in the actual cursor.

9 icons(updated)!
Note: These icons are best viewed in 48x48 size.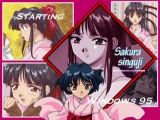 Animated Windows startup logo!
---
More cursors/icons and other stuff coming soon!
Don't know how to use these desktop accessories? Click here for more info.
If you want to use anything here in your homepage, email me (with your site URL) for permission.
Forums Anime Shop Vote for Anime Theme Survey Email Me
---
Links
If you think your site rocks and is related to Sakura Wars then please fill in this form and I will put a link here.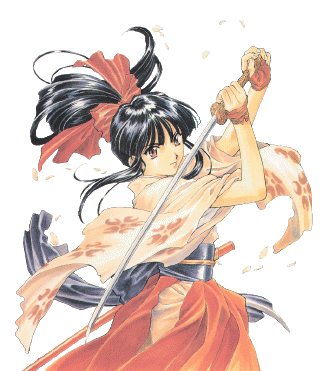 ---
---