The Princess Mononoke
(BGM from The Princess Mononoke Theme)
---
---
The latest (and possibly the last) film directed by Miyazaki, "Mononoke Hime" is a story about a mystic fight between the Animal Gods of the forest and humans, which takes place in the Muromachi Period (1333-1568) of Japan.
On the side of the Animal Gods is San (Mononoke Hime), a human girl who was raised by a wolf god. On the side of the humans is Lady Eboshi, who tries to build a kingdom for oppressed people, by cutting down the forest for her iron making operation.
In the middle of this fierce fighting for survival, Ashitaka, an Emishi boy, struggles to find a way for both sides to coexist. But the fighting just becomes more and more bloody and all hope seem to be lost...
The Princess Mononoke
Story:10 Characters:10 Art:10++ Overall:10+
My review: The Princess Mononoke, together with Neon Genesis Evangelion, are the BEST animations I've ever seen!
Do you know: The Princess Mononoke is the highest-grossing local movie and the second-highest of all movies (just behind "Titanic") in Japan. It took the FIRST place in the Japanese "Ninki Chart 97"(entertainment focuses chart) and was selected as the BEST movie in "The 22th HOUCHI SHINBUN Annual Movie Award" (another Anime movie, Neon Genesis Evangelion The Movie is also on the top-ten list).
For the complete list of awards of The Princess Mononoke, click here (in Japanese, at Studio Ghibli website).
Some info about the international release:
In the US and Europe, Disney has recently released it in theaters (through Miramax).
It has been shown in theaters in Hong Kong and Taiwan.
You may take a look at the movie trailers (both English and Japanese version available) from Nausicaa.net.
---
Desktop Accessories
Click here to download Princess Mononoke Desktop Theme (2.91M), version 1.0! It contains 5 wallpapers and the Ashitaka cursor

which fits this Theme. Click here for the listing of included items and installation instructions.
If you want to preview the Theme before download, click here.
If you have problems downloading the Theme files, use GetRight which can resume broken/timeout downloads!
If you have downloaded the Desktop Theme and have Microsoft Internet Explorer 4.0 or later installed, click HERE and make your desktop ANIMATED!

Mononoke Hime animated mouse cursor!
Mononoke Hime Win95/98 Startup/Waiting/Shutdown screens!
(Mononoke Hime logos courtesy of Aaron Meyers)
---
More cursors/icons and other stuff coming soon!
Don't know how to use these desktop accessories? Click here for more info.
If you want to use anything here in your homepage, email me (with your site URL) for permission.
Forums Anime Shop Vote for Anime Theme Survey Email Me
---
Links
If you think your site rocks and is related to The Princess Mononoke then please fill in this form and I will put a link here.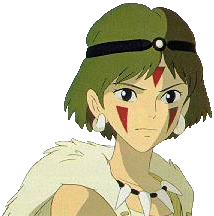 ---
---
---
The Princess Mononoke is copyright © 1997 Hayao Miyazaki/ Studio Ghibli. All rights reserved.