On Your Mark
(BGM from Chage & Aska's "On Your Mark")
---
It was the first time (so far the only time) Miyazaki produced an animated MTV for a song. The song "On Your Mark" was composed and sung by Chage & Aska, and the animation was directed by Miyazaki. This music video was shown in Chage & Aska's "Super Best III" concert tour.
The story takes place in a city polluted by radiation and diseases. During a mission, two policemen (Chage and Aska?) find an injured Angel. To save her from this polluted city, they rescue her from the nuclear factory, and bring her back to the sky...
On Your Mark
Story:10 Characters:10 Graphics:10 Overall:10
My comments: Charming music, stunning animation...what else can I say?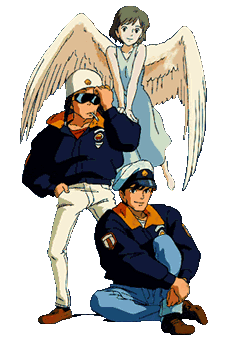 Don't you want to hear "On Your Mark" as well as other songs of Chage & Aska and Studio Ghibli? I recommend the following music CDs.
---
Chage & Aska
Chage & Aska is one of the best singer duo in Japan. They began their music career after they won in a music competition in 1979. Unlike some other Japanese idol singers who attract their fans mainly by their images, Chage & Aska can actually show their strength and talent in composing and performing songs. Their songs are highly valued in Japan and they have received a lot of music awards. Many of their songs have been rearranged and sung by some other famous singers, such as Maxi Priest, Boy George and Richard Marx. Years ago they were invited to compose and sing the theme song "Something There" for a Hollywood movie, "Street Fighter". The music video of this song, directed by Randee St. Nicholos, was highly valued in the U.S. "MTV Music Video Award".
Screen shot from "Something There" MTV
---
---
Animation© 1995 Nibariki Co., Ltd. & Studio Ghibli Co., Ltd.
Music© 1994 Yamaha Music Foundation, Japan Broadcast Publishing Co., Ltd. & Real Cast Inc.