EVANGELION: Rebirth of Angels
Preparation Room
---
---
You may have watched Neon Genesis Evangelion before, but have you ever imagined what you would do if you were Shinji? Now take his role and see if you can save the world with your EVA!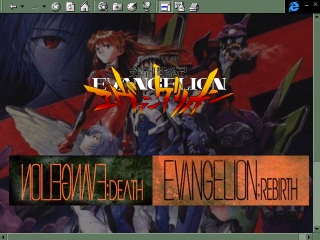 EVANGELION: Rebirth of Angels
---
How to Play?
Make sure that you have Internet Explorer installed.
Download eva_game.zip (1.0 MB), and uncompress it somewhere on your computer.
Open "play.hta", and ENJOY!
This strategy game is based on the popular Anime series Neon Genesis Evangelion. It covers the story and scenes of the TV series as well as the Evangelion Movie! If you have Internet Explorer, you shouldn't miss it!
No matter what browser you are using, click HERE to take a look at some screen shots of the game! Click here for a list of top-10 players who have finished the special mode game!
---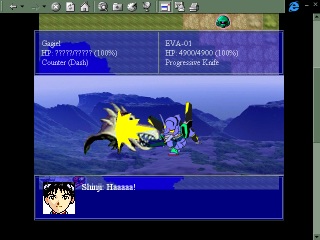 Ever thought of a game with EVAs and many other robots from different Anime series IN THE SAME WORLD!?!? Click HERE to find out!!
---
Errors? Stuck in the game? This is the forum for your! Feel free to post your questions or discuss about this game. Suggestions or comments for game improvement are most welcomed.
---
---
All game engines are copyright (c) 1997-2010 Butz Yung. All rights reserved.
No parts of the codes may be copied, distributed or modified without permission.
DISCLAIMER: This is an UNOFFICIAL Neon Genesis Evangelion game. It was made by fans for fans, without the consent or knowledge of Gainax or any of the other copyright holders. This game was made for PERSONAL USE ONLY.
Neon Genesis Evangelion and related images are copyrighted by GAINAX/ Project EVA, TVX, NAS.
Microsoft, Windows and DirectX are either trademarks or registered trademarks of Microsoft Corporation.