Super Robot World
Preparation Room
---
---
Welcome to the World of Super Robots! Ever thought of a game with ALL your favorite robots from different Anime series? Ever imagined the scene of ZZ Gundam fighting an Angel, or EVA against a DC Zaku? Here in this game, anything can happen!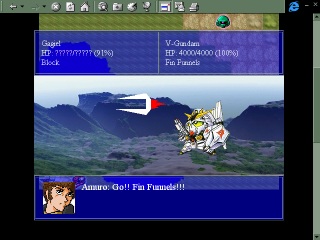 Super Robot World
---
System Requirements
Recommended Settings
---
Start Playing (ONLINE)
This is the standard playing method of the game. If you are using Internet Explorer 5+, simply click on the link below and enjoy!
Advantage:

The game can be played without any extra downloads.

Disadvantage:

A lot of image and sound files must be loaded before the start of every game stage, and this may be a problem for those with slow Internet connetion.
---
Start Playing (OFFLINE)
To play the game offline, you must installed SRW Scenario Development Kit. This allows you to make your own game as well as play the game on your computer without Internet access. Check out SRW SDK page for details.
If you are not interested in making a game and simply want to play, follow the instructions below.
Make sure that you are using Internet Explorer 5+.
Download srw_pc.zip (1.1MB).
Unzip the included files as well as the stored folders to the root directory (c:\). You must unzip it to the root directory, or the game won't work.
Download srw_sdk.zip (435KB).
Unzip the included files as well as the stored folders to anywhere you like.
Open the unzipped "index.htm" and start playing!
Advantage:

The game can be played completely offline without Internet connection.

Disadvantage:

You need to download all the game files and have them stored in your computer. Whenever the zips are updated, you will need to download the updated zips again.
---
This game is based on the "Super Robot Taisen" console game series so this game may look familiar to you if you have played the series before. This game also contains some stuff from "SRC" (Simulation RPG Construction) which is another free Super-Robot-Taisen-based game.
This game features the following Anime/console game series currently. Expect more to come soon!
Final Fantasy VII
Mazinger Z
Mobile Suit Gundam
Neon Genesis Evangelion
Irresponsible Captain Tylor
There are some special terms used in this game which may be difficult for beginners to understand. Please take a look at the Super Robot World Glossary before play.
Any questions unanswered on this page? Check out the FAQ!
Don't you want to make a similar game of your own? With "Super Robot World SDK", this is no longer a problem! Let your imagination run wild!
---
Errors? Stuck in the game? This is the forum for your! Feel free to post your questions or discuss about this game. Suggestions or comments for game improvement are most welcomed.
---
---
All game engines are copyright © 1997-2008 Butz Yung. All rights reserved.
No parts of the codes may be copied, distributed or modified without permission.
DISCLAIMER: This game was made by fans for fans, without the consent or knowledge of any related copyright holders. This game was made for PERSONAL USE ONLY.
"Super Robot Taisen" console game series is copyrighted by BANPRESTO.
All Anime, robots and characters are copyrighted by their respective owners.
Microsoft, Windows and DirectX are either trademarks or registered trademarks of Microsoft Corporation.