Princess Mononoke Wallpaper Gallery
(BGM from The Princess Mononoke Theme)
---
---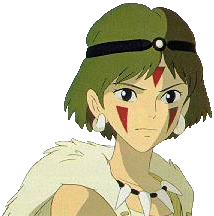 If you have downloaded any wallpapers from this page, and have Princess Mononoke Desktop Theme and Microsoft Internet Explorer 4.0 or later installed, click HERE and make your desktop ANIMATED!
---
---
The Princess Mononoke is copyright © 1997 Hayao Miyazaki/ Studio Ghibli. All rights reserved.
These wallpapers were made from the images found in Mike's Gallery of Princess Mononoke.